Skytrust Safety App & WHS Management System Helps You Ditch The Paperwork By Simplifying Complicated Processes
Skytrust Safety App is the ultimate all-in-one WHS management system software that assists you to stay compliant, gain certification, win tenders, and create a safer and more productive workplace.
THE SKYTRUST NEWS
INDUSTRY AND COMPANY ARTICLES
Skytrust is Trusted By Global Companies Across All Industries
Our Clients
Pirate Life Brewing x Skytrust
✅ Can now monitor their workplace in real-time
✅ Has an increased visibility into their operations to improve their brewing process
✅ Skytrust whs software systems has removed the need for an extra employee (saving $60k+ a year)
✅ They are now focused on their core mission of "making creative and good quality beer"
Watch the video
Toyota Material Handling x Skytrust
✅ Can now assess what exactly is happening at each of their 18 branches, across 700 staff members
✅ Can now establish a better picture of risks and incidents with Skytrust WHS monitor & OHS audit app
✅ Gives them quality control over potential WHS standard improvements and hazard risk management, instead of singing, printing, and filing documentation
✅ Can monitor incident-to-injury ratio and the frequency of such with Skytrust's safety risk management process & whs software systems software
Join The 140,000+ Global Users That Rely on Skytrust
Streamline your business with Skytrust Safety App
If you are applying to be triple certified or applying for recertification, our cloud-based WHS management system can make the safety risk management process simple by providing auditors access to the system, minimising the need for any printing or documentation.
Health & Safety should be established with the utmost modern technology so that you can best maintain the well-being of workers, contractors, visitors, and yourself.
Skytrust WHS monitor software allows employees to complete hazard risk management inspections and file documentation on any device. Discover the Skytrust OHS audit app difference and enjoy full access to our WHS Management software: request a demo today!
Your own visual dashboard
Gain instant snapshots of your current compliance level with our drillable dashboard. Have easy access to risk management software solutions & whs management software data whenever you need, as soon as you open the app.
Our all-in-one model means all of our modules are included in our initial costs. Often other EHS software for manufacturing, safety software systems or risk management software solutions have additional fees to access all their modules after the initial installation.
But Skytrust OHS management system offers all our modules in our up-front application, including auditing processes, documentation filing, and photo uploads of risks, hazards, and incidents for anyone to have direct access to.
We offer a FREE three-month trial with our full system so you can experience the Skytrust safety management system software Australia difference for yourself.
Contact us today and we can start implementing our safety software system through an easy transitional process that gives you full access so you can truly see the benefits for yourself.
Input plant and equipment data
Information required under safety regulations can be captured and employers can be notified when testing, tagging, calibrations, maintenance, and services are due.
This is all done via a dedicated QR code that gets created for each item of plant/equipment which enables you to scan to obtain relevant information thru Skytrust's health and safety software. You can also carry out inspections of the plant from the QR code.
The plant and equipment module also tracks the sequential and allocation of all equipment.
Instant incident reporting
Maintain transparency across your entire business with cloud-based reporting through our WHS management system software.
Whether it is a near miss or an actual injury – all incidents need to be recorded. Our health and safety software & safety app enables employees to report incidents as they unfold, even when there is no internet connection.
When an accident occurs in the workplace, you can keep a record of all information, including where the injury occurred and how.
You can also decrease the chance of any injuries reoccurring when you identify your risks and put appropriate systems in place to mitigate them.
View your WHS history with maintenance recording
Track upcoming maintenance requirements with automatic email notifications and real-time monitoring via the WHS software Australia dashboard.
Skytrust's safety management software offers tailored reporting features, via the real-time dashboard or through the reporting module so that you can always be on top of what is happening in your business.
With our WHS software Australia, You can also manage your performance to ensure compliance is always being met.
Risk assessment
To identify current risks, you can enter reports into our WHS management system and use our risk matrix to assess the level of the threat and manage it by identifying and monitoring it.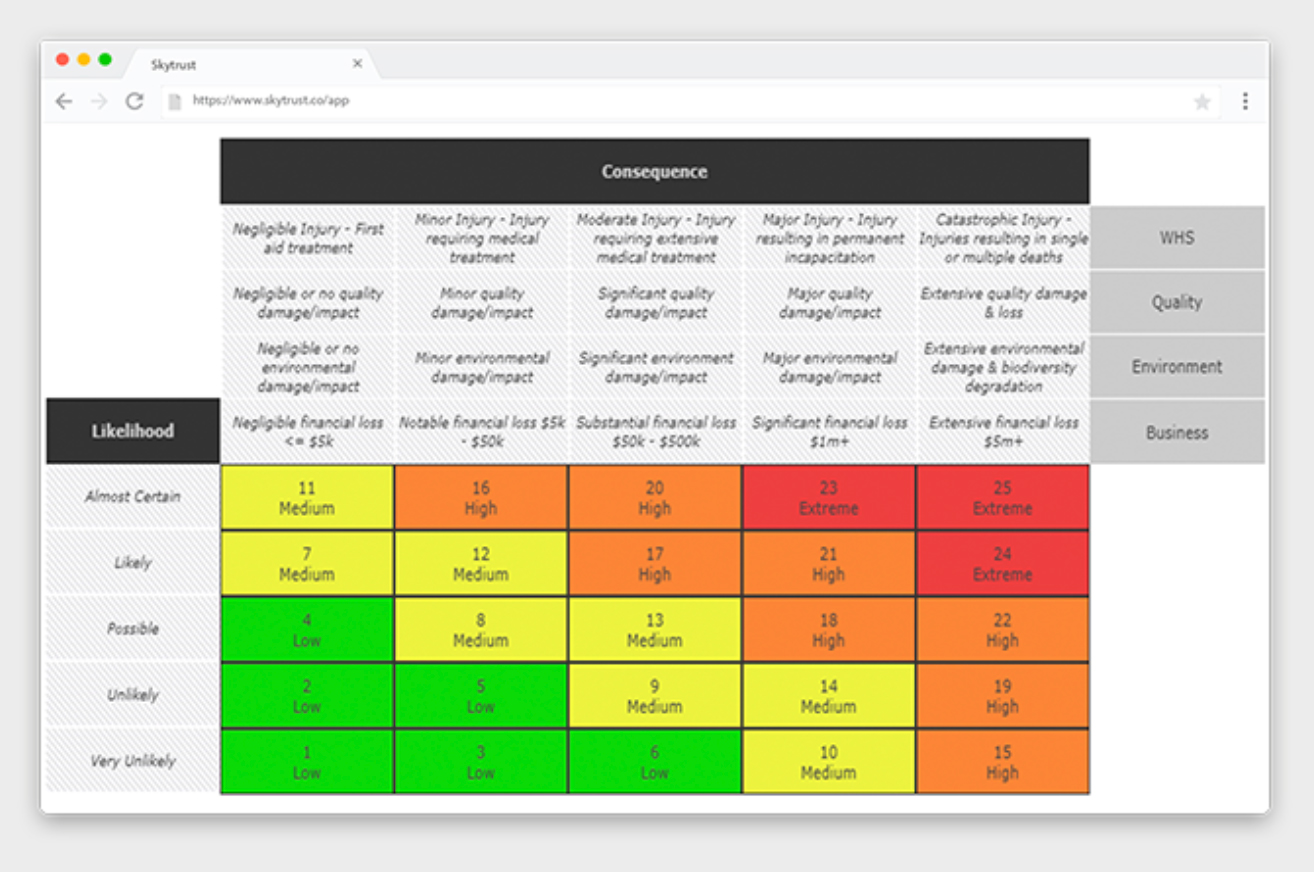 Our Health and Safety App Software also has a list of historical risks so that anyone can collectively read and go back to them to make changes and updates whenever they need.
Skytrust helps you to manage your business by helping you control the risks of work activities and help you carry out tasks safely. See how to minimise risks and what factors contribute the greatest to them through Skytrust.
Make inspections a breeze
Create and schedule specific inspections to be performed using our safety management software. Include references to standards, codes of practice, legislation, and calculate your relevant compliance levels instantly.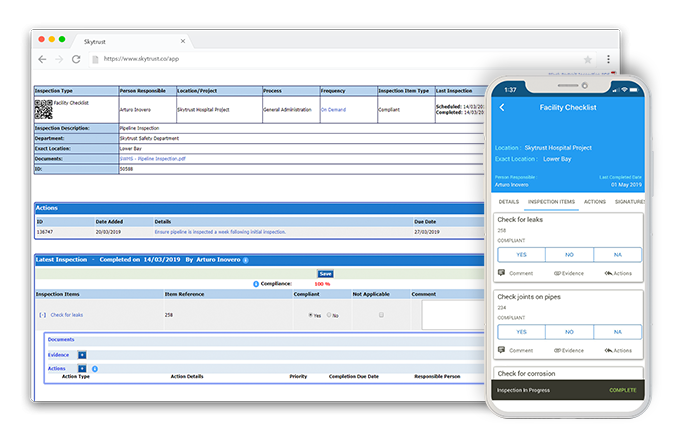 With Skytrust's WHS management system software, you can create inspections where previously any paper checklist has been used. You can create inspections for sites, vehicle pre-starts, Chain of Responsibility, and many more.
Inspections can also be carried out via the Skytrust App offline, so if you lose connectivity, you can still conduct inspections.
Audits
Streamline your entire auditing process and save valuable time. Skytrust helps you fast-track your accreditation and ensures compliance with our preloaded audit templates.
Skytrust auditing enables you to undertake a self-audit of your management systems against the ISO Standards. The audit tool enables you to establish your level of compliance and gather evidence of how strongly you are complying with the ISO standards.
Once you complete the audit and gather information, the auditing system collates a WHS Audit report, which includes all your evidence and corrective actions, along with an overall compliance audit score, a possible score, an achieved score, and the shortfall between the latter two.
Risk management
Not only can you assess risks before you start on a site, project, or task, but Skytrust's safety management software helps you to manage and control current risks and hazards as factors pertaining to them change over time.
Skytrust's safety management software uses cloud-based technology, which assists you in determining the current risks related to safety, quality, and the environment in real-time, not just in the office but out onsite.
Continue to add and alter reports as threats get minimised and check back to see if any risks have changed, increased, or decreased, depending on other external and internal factors.
Make sure your team gets home safely
Skytrust is very easy to set up and to implement and use. Great range of modules included, and our auditors have been very impressed.
Andrea Lively – Sealink Travel Group
Skytrust has made implementation, compliance and certification very much easier than it would have been otherwise. The system has exceeded our expectations.
Alex Rogers - Energus Pty Ltd
Skytrust was the best Integrated Management System I've used. Very user friendly, modern and the app versions are great also. Customer service by all the staff was also great.
Kristian Nesbitt – SA Structural
The simplicity of Skytrust makes life easier for management and allows for everything to be traceable in a centralised system.
Aaron Goulding - Bianco Hire
Skytrust provides me with peace of mind as I know that I can capture and retrieve information quickly in order to comply with the reporting requirements if an incident were to occur.
Tim Hackett – Henschke Wines
Skytrust is a very comprehensive tool, which allows transparency and auditing of regulatory and business-driven processes.
George Gribble – Spring Gully
The training component of Skytrust has helped us track our employees training needs and qualifications in one easy to use system.
Daniel Harrison - Global Engineering & Construction
We are an ISO 9001 certified organisation for over 19 years, we took the decision to team up with your organisation was by far one of the best decisions we have made to bring the technology closer to our business process.
Vinod Manambrakat – SpanSet Australia
This system is easy to use, easy to understand and you don't need to be a computer expert. It's paperless, efficient and I would recommend this product in any industry.
Ryan B - Leopharma
Skytrust is providing benefits beyond our expectations in terms of cost savings, system optimisation and system integration.
Rob Oliver – Diab Engineering
The best holistic system I have ever used. Has modules to cover all elements of Occupational Health & Safety and Quality and much more.
Conrad Russo - GMA Garnet
Skytrust has been an essential part of our compliance and risk management process. Great company, great people.
Mandy Spear – Titanium Security Arena
Hear From Some Of Our Clients In Their Own Words
Explore our case studies